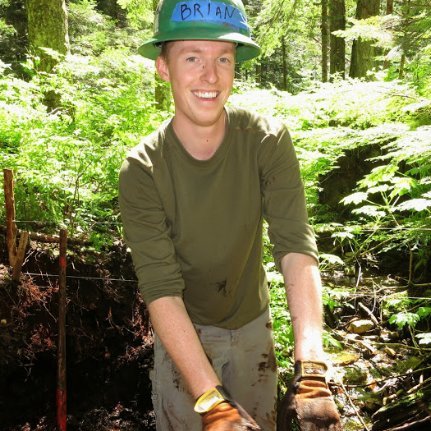 When Brian joined Windward, he was excited to start his career in Environmental Consulting. His passion for both science and the environment made him a perfect fit for our team, and he has proven himself to be a valuable addition. Find out a bit more about Brian in the interview below.
Are you originally from this area? If not, where did you grow up, and when did you move to Washington?
I was born and raised in Skagit County, in the small town of La Conner, Washington, about 70 miles north of Seattle. I spent my college years at Western Washington University in Bellingham, then moved to Seattle in 2011.
What did you want to be when you were a kid? Did you have a favorite superhero or role model?
When I was a kid, I wanted to be a cartoonist—I doodled constantly. I still draw sometimes, but not very often.
My role model has always been my dad. When I was little, I used to watch him work wood in the garage or do other projects around the house. At one point, my parents even got me my own miniature tool belt so I could "help" by banging wildly on scrap pieces of wood with my tiny hammer. And when we went fishing or crabbing in the San Juan Islands, he would let me reel in big fish or haul in crab pots. Whatever we were doing, I looked to him for fresh knowledge and encouragement.
Why did you decide to go into environmental science?
I suppose the seed was planted early on by my parents, who are outdoorsy folk. As a family, we spent our vacations camping, fishing, hunting, or hiking. I still feel a deep connection with wild places, plants, and wildlife, and I spend as much time as I feasibly can hiking, backpacking, exploring the woods, and foraging for edible mushrooms.
My first two years of college were rather aimless. I had initially intended to study foreign languages, but I quickly realized how narrow my career prospects would be with a Spanish or Chinese language degree. And while I found learning new languages interesting and exotic, I never really connected with my peers or my professors.
While I found math and science classes to be incredibly difficult, they were also unerringly fascinating: it was the challenge of the sciences that first drew me in that direction. I knew that WWU had a well-respected Environmental Science program through the Huxley College of the Environment, so I met with some of the professors and advisors. I was pleasantly surprised by the sense of community and the relaxed atmosphere of the program. In Environmental Science, I found both challenge and a set of peers who were as passionate as I about environmental issues.
When it's sunny, where is the weekend likely to find you? How about when it's raining?
Like a true Western Washington native, I try not to let the weather determine where I go and when. Some weekends, I'm curled up on the couch with my wife, reading a book; others, I'm in the woods. Depends on my mood more than anything.
What's your favorite comfort food?
My tastes change like the seasons. Right now, in late summer, my favorite thing is fresh seafood, prepared simply. I especially enjoy shrimp, boiled or BBQed, and served with garlic butter and herbs. I also enjoy pork in its many forms: ribs, chop, loin, shoulder roast, etc. The best pork I had this year was in the form of bombettas, which are pieces of pork tenderloin pounded flat, filled with chopped, fresh herbs, provolone, and salt and pepper, wrapped in prosciutto, and barbequed. Hard to beat.
Where is the coolest location you've traveled to for work?
Santa Catalina Island in the Channel Islands, a few miles offshore from Long Beach, California. We stayed in the resort town of Avalon, which was beautiful, and worked up in the dusty, cactus-rich hills. Some of us even had the opportunity to rappel down a steep hill, harnessed and roped, as part of the field event. Also, we were there at the height of the local lobster season!
Return to Get to Know Us.