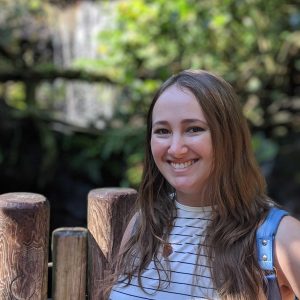 One of the more recent scientists to join the Windward team, Amy brings a lifelong love of the great outdoors to her work.
Are you originally from the Syracuse area?
I'm originally from Buffalo, so yes, I'm basically from this area. I moved to Syracuse for college and then I got a job here, so I've actually lived in new York most of my life. The only other place I've lived was Ukiah, Oregon: After undergrad, I got a summer job there working for the US Forest Service
What did you want to be when you were a kid?
My aspirations jumped around a lot when I was a kid. I thought I might pursue teaching for a while, and I even looked into it after undergrad. But I always enjoyed science too, and after getting my BS in aquatic fisheries and science, I got a job in a laboratory at Syracuse University that was a really good fit, so I decided to stay in the sciences.
Why did you decide to go into environmental science?
It was one of the subjects I always enjoyed and was good at. My family has a place in the Thousand Islands in the St. Lawrence River, so I grew up being outside a lot and always felt in touch with nature. I've always especially enjoyed any water-related activity.
When it's sunny, where is the weekend likely to find you? How about when it's raining?
When it's sunny but not too warm, I enjoy running. I'm also happy for any excuse to be on the river. When I can't get outside, I dabble in all sorts of crafts: sewing, paper crafting, clay sculpting, wood burning…this is a box with a pattern I burned into it, it's one of my favorites!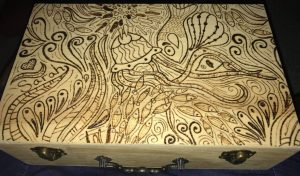 What's your favorite comfort food?
Definitely mac and cheese or fettuccine alfredo. I'm a strong supporter of any carb-oriented food!
Where is the coolest location you've traveled to for work?
I really loved the various sites I got to visit while working in Oregon. The job was to perform field tasks at streambeds and fish habitat, so we'd end up driving down these really remote roads, then hiking even further to get to the stream. There was no one out there at all.
On the other hand, there was one site that was cursed. I got stung by bees hiking in and again hiking out, there was a rattle snake at our camp site who wouldn't leave us alone, and then we blew a tire on the drive out. That one may not have been cool, but it was certainly memorable, especially since we ended up killing the snake and eating it for dinner!
Return to Get to Know Us.