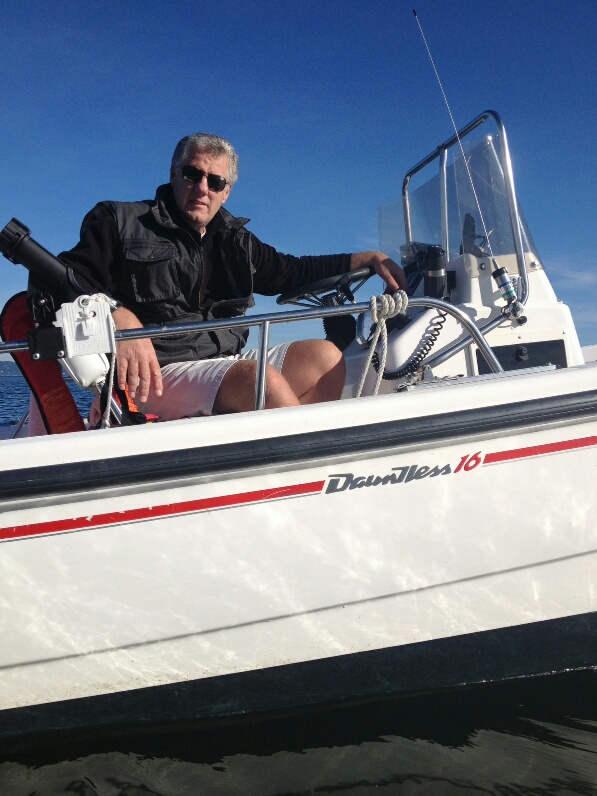 Mike Johns, one of Windward's original founding partners, specializes in aquatic ecological risk assessments (ERAs) and natural resource damage assessments. As an expert in his field with more than 30 years of professional experience, Mike often provides technical review and comments on proposed environmental litigation, as well as serves as a testifying expert. Mike's clients know him to be professional on the witness stand and thorough in the field, but like all of us, Mike is more than just his professional persona. He took some time out of his day to answer a few questions and let us get to know him a bit.
Are you originally from this area? If not, where did you grow up, and when did you move to Washington?
I was an Army brat – I grew up all over the world. I was born in Ft. Knox, Kentucky, but my father was stationed at plenty of other locations, including several in both Japan and Germany. When he retired, we moved to Charleston, South Carolina, so I guess you'd call that my home town. I moved to Washington in 1986.
When you were a kid, what did you want to be when you grew up? Who was your hero?
When I was a kid, growing up on various army bases, I was surrounded by the military culture. My dad was my hero, so not surprisingly, I wanted to be a soldier.
Why did you decide to go into environmental science?
When we settled in Charleston, I became fascinated by the beach and the salt marshes. They have some pretty spectacular storms down there, and after each one I would beg my parents to drive me out to the ocean so I could search for treasures washed up on the shore. I even started a collection by preserving stuff in isopropyl alcohol, but that particular project didn't end too well—although I did learn that isopropyl alcohol isn't really a good preservative.
I never lost my love of the water, so when I got to college, marine biology was the perfect choice. I spent a number of years as a research scientist at EPA's lab in Narragansett, Rhode Island, but when my wife and I moved to Seattle, environmental consulting was the logical progression for my career.
When it's sunny, where is the weekend likely to find you? How about when it's raining?
Rain or sun, it doesn't matter – if it's crab season, I'm crabbing! Or fishing, for that matter. Around here, you can't let the weather stop you from getting outdoors and doing what you love.
In the off-season, I'm usually happily buried in my shop, working on copper sculpting or woodworking projects. I've been working with copper for the past 5 or 6 years, but woodwork has been part of my life pretty much ever since I can remember. Maybe it's not what you'd expect from a scientist, but I have a definite artistic side: I even used to practice gyotaku, a traditional Japanese form of fish printmaking, and also got to be pretty good at designing and creating leaded glass windows and door panels.
What's your favorite comfort food?
Pepperoni pizza – you can't go wrong with a classic.
Where is the coolest location you've traveled for work?
There have been several, but I'd have to go with Melbourne, Australia. We'd been hired to perform human health and ecological risk assessments for some local wetlands, so before our initial trip, we decided to do some research on what sorts of animals we might encounter. As it turns out, the area is home to the tiger snake, a member of the cobra family, and its bite is potentially fatal to humans—yup, that's Australia. So we get to the site, step out of the car, and the only thing we can hear is frogs, which just happen to be the tiger snake's preferred food. And one of the locals turns to us and says "If ya get bit, don't panic, we have the antidote back at the facilities. You'll have 30 minutes to get back before you're in trouble." You can image how comforting that was. But we never did see any tiger snakes, and the opportunity to spend significant time in such an amazing place was a really eye-opening experience.
Return to Get to Know Us.