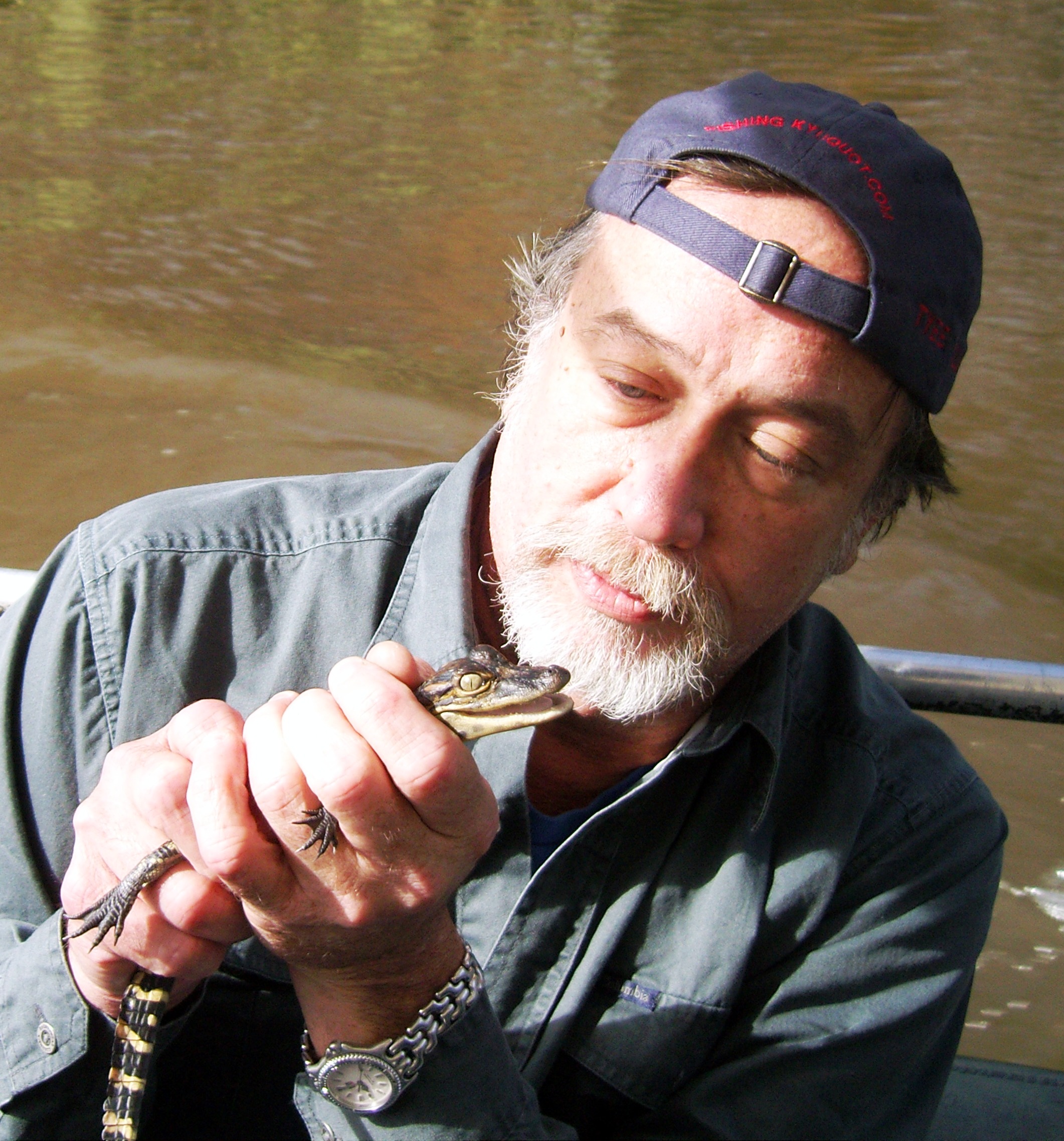 Ron specializes in natural resource damage assessment (NRDA). He has been involved in cleanup and restoration efforts at more than 100 hazardous waste sites and chemical or oil spills, where he has successfully combined NRDA at Superfund, Resource Conservation and Recovery Act (RCRA), and state-lead sites. Listening to his stories of growing up on the Louisiana Bayou, it's easy to understand how Ron developed a special fondness for everything that crawls, slinks, slithers, or swims (Even alligators! Well, little ones.).
Are you originally from this area? If not, where did you grow up?
I'm originally from New Orleans, so I spent my entire childhood at or below sea level. We lived in a pretty rural area that had once been nothing but swamp, sometimes referred to as Rattlesnake Alley because of all the canebrake rattlers. My dad built our place by hand; it was a chicken farm with about 5,000 laying hens, so I was very familiar with animals, both domesticated and wild, from a young age.
What did you want to be when you were a kid? Who was your hero?
Growing up where and when I did, I guess it's not surprising I wanted to be a biologist. I honestly can't remember a time when I wasn't fascinated by animals—rabbits, raccoons, turtles, not to mention anything I could catch in the creek or "The River," as we called the Mississippi. So I was very impressed by John and Frank Craighead who, if you don't know, were important conservationists and naturalists when I was growing up. They're probably most well-known for their work with grizzly bears in Yellowstone. National Geographic featured them in a number of specials, and my brother and I really looked up to them.
Why did you decide to go into environmental science?
My career path has had a number of twists and turns, always prompted by the rise of an unexpected opportunity. When I finished high school, I thought I wanted to be a doctor, so my initial college track was premed, with plenty of physiology and chemistry to accompany my BA in biology. But after I graduated, I realized that I didn't want to be in a doctor's office all day, so I went back to my first love—nature and animals. I planned to get a degree in ichthyology (fish science), but before I could finish school, I was recommended for a job as a marine biologist for Louisiana, and I took it.
After 10 years in that position, I decided to go back to school for my PhD. I studied a number of quantitative subjects, especially higher-level math and physics, but then fate intervened again, this time in the form of a call from NOAA. I had the opportunity to work with and protect coastal resources, which really appealed to me, so off I went again, this time for 15 years.
It was through my work with NOAA that I got to know some of the people at Windward. We worked with each other on several occasions, and I respected the company as one of the few that would actually live up to its word. So when the opportunity arose to join Windward, I changed paths again, and here I am.
When it's sunny, where is the weekend likely to find you? How about when it's raining?
If the sun is out in Seattle and it's warm enough, I'm hopefully somewhere outside taking a nap. But if I'm not, I'm probably walking or playing with my French bulldog, Lil' Bit—she's the one in charge. Or maybe looking after my koi or puttering in the garden.
If it's raining (and this is Seattle), I love a good Netflix binge—Better Call Saul and Breaking Bad are two of my favorites, and I really got into the BBC's Wolf Hall.
What's your favorite comfort food?
As you'd expect, being from New Orleans, my favorites tend to be Creole— jambalaya, shrimp gumbo, and naturally, beignets. I also believe strongly that there is nothing more delicious than fresh New Orleans French bread; it's hard to find any that's up to my standards in Seattle, although there are a few Vietnamese bakeries that know their stuff.
Where is the coolest location you've traveled to for work?
I'd have to say St. George Island, which, for those who don't know, is in the Bering Sea off the western coast of Alaska. I was there during my time with NOAA to oversee the installation of a pump and treatment station to deal with a diesel plume that was left over from the US Navy's WWII efforts.
The island's population consists of about 100 people and thousands of northern fur seals—the Pribilof Islands are the breeding ground for about half of the world's fur seal population. In fact, you have to watch out for them when you're out and about, especially the big males, but they'll generally leave you alone if you leave them alone.
Return to Get to Know Us.